Fall Retreat 2018
October 19 @ 7:00 pm

-

October 21 @ 1:00 pm

PDT

$145
Weekend Retreat
October 19 – 21, 2018
'Soul Retrieval'
From the Bön Buddhist Tradition of Tibet
The Tibetan people traditionally view the five elements of earth, water, fire, air and space as pervading all of life and as the essential components of our entire worldly existence. The soul (la) is said to be composed of these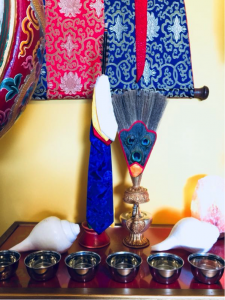 at a very subtle level – and it is believed that a traumatic event or other shock can cause an individual to lose connection with the elements and become dispirited.
Just attending a ritual in itself brings a healing effect. Lama Geshe YongDong will instruct and guide students to learn how to diagnose the need for soul retrieval as well as how to perform it. Through meditation, visualization, mantras and chants, drumming, offering and rituals students will learn to overcome negative influences and bring back the positive qualities that are missing or reinforce the qualities that are weakened in themselves or in others.
Maintaining the practice of soul retrieval regularly, you revitalize your inner being and restore your soul giving you the internal power to:
Strengthen your ability to avoid losing your vitality when faced with difficult life challenges
Energize your personal life, family life and professional life.
Recognize your powerful internal and external sources of healing.
Experience healing on all levels—physically, energetically, psychologically and spiritually.
Awaken your inherently joyful and creative nature.
REGISTRATION INFORMATION:
Cost: 145.00 includes Teachings approximately 10 hours, tea and snacks through the weekend and handouts.
Registration can be completed online by using your credit card.  Payment by cheque or  cash is also accepted if you choose not to register online.
Cheque Payments:  Please make cheque payable to: Sherab Chamma Ling and mail to:
Sherab Chamma Ling, 7-3020 Cliffe Ave. Courtenay BC V9N 2L7
Teaching Times: 
Friday:      7 – 9 pm ( Doors open at 6:15 pm)
Saturday: 10 – 12 noon; and 1:30 – 4 pm
Sunday:  10 – 1pm
NOTE TO ALL WHO REGISTER:
GesheLa will hold a Refuge ritual Ceremony for those who wish to take refuge.
It will be held on Saturday at 8:45 am. Please arrive a few minutes early.
If you are interested to take part in this ceremony, please email [email protected] and you will receive further information closer to the event.
Registration Contact:
Email: [email protected]
Phone: 250-900-7153
Location: 407A 5th at England Street, Courtenay BC Canada
Limited billeting by local sangha may be available on request.
There are many hotels/motels/B&B's in Courtenay.  You can get a good idea of accommodations and cost from this link:
www.vancouverislandaccommodations.com.  Just click on the city of Courtenay in the right hand index.
Meals:
Participants will be responsible for their own meals throughout the retreat.  If you are billeted, please speak to your host about arranging breakfast on Saturday and Sunday.  There are numerous fine dining establishments in the Courtenay downtown area.  Talk to the locals and get some recommendations.
Cancellation Policy: There is an automatic $20.00 administration fee for ALL cancellations, regardless of when cancellation takes place.
No refunds for "no show."
Cancellations received up to 5 weeks before the event, will receive full refund minus the $20.00 administration fee.
Cancellations received up to 2 weeks prior to the event, will receive 50% refund minus $20.00 admin fee.
No refund will be issued to cancellations received 7 days or less before retreat date.
Registration will not be complete until we have received your payment in full.  We are not able to hold or reserve places.