March 13 – 15, 2020: Geshe La Teaches in San Jose, Costa Rica
Topic:  Summary of Dzogchen View – the 5-fold Teaching of Dawa Gyaltsen.
Vision is Mind.
Mind is empty.
Emptiness is clear light.
Clear light is union.
Union is great bliss.
Although this poem looks simple, fully understanding it requires explanations and instructions from a Dzogchen teacher. 
Join Geshe La at this retreat as he explains to you 'As it Is'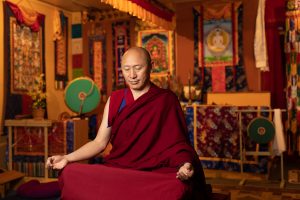 For Dzogchen practice, you simply sit quietly doing nothing.  Leave everything 'as it is without judgement.  As thoughts arise, let them arise;  as thoughts leave, let them go.  Don't chase them.  Don't stop them.  Leave them "as it is; remain in the natural state.  All thoughts and emotions come from the empty space of mind, abide in that space and return to the empty space of mind.  When you recognize and experience that, you are practicing Dzogchen meditation.  This practice can be very easy or very difficult depending on your personality, your level of instruction, the quality of your practice, and your karmic connection to the Dzogchen view.
One of the most important points from Dzogchen teachings is to remain natural, without fabrication, and leave whatever is happening as it is – not trying to fix, force, or correct – simply letting go and letting be. 
FMI: