Online Fall Retreat: Part 4 of Taming of the Ego, Journey to Peace, Phowa
September 30 @ 7:00 pm

-

October 2 @ 12:00 pm

PDT

$150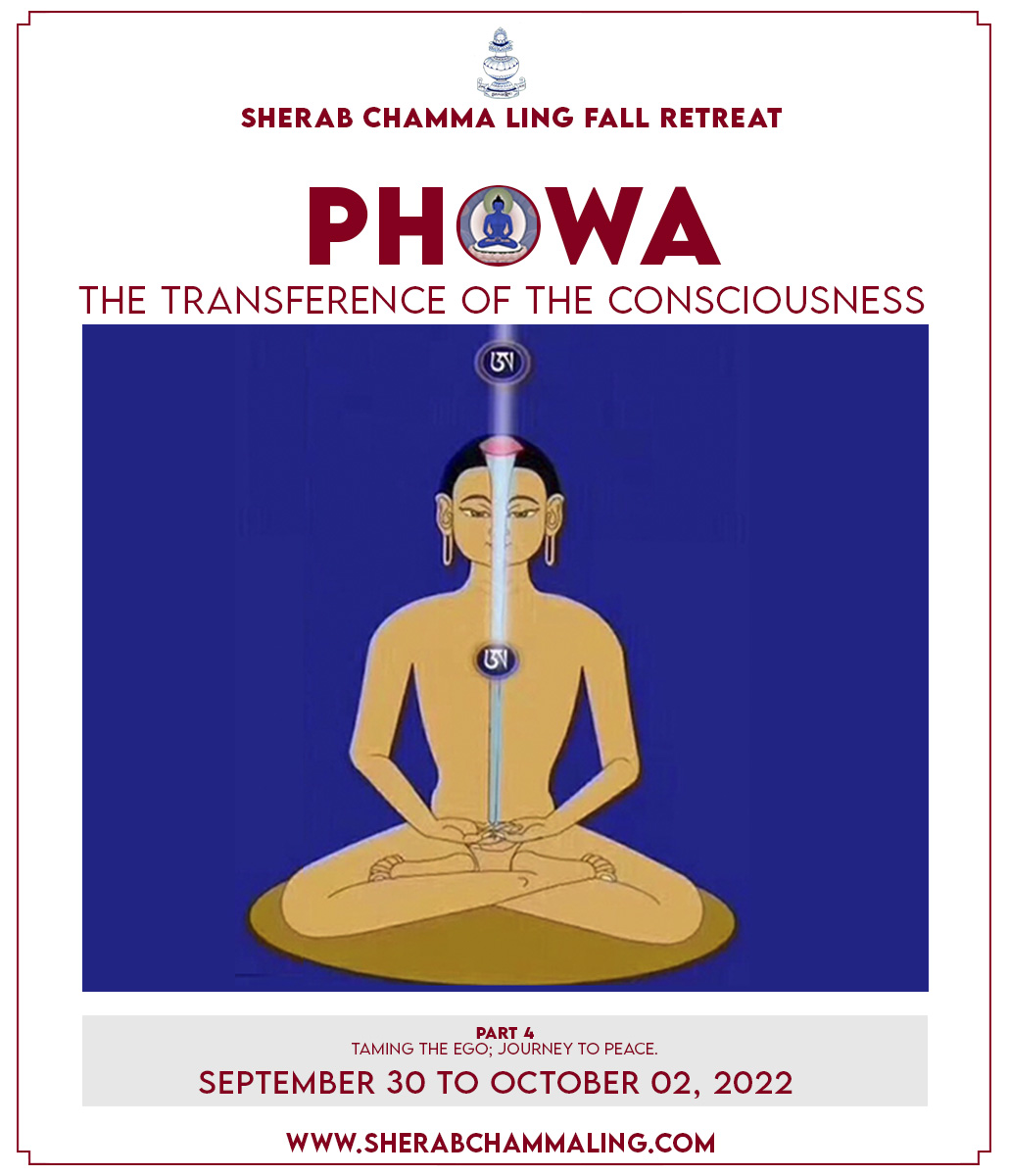 Online Fall Retreat
Phowa – the transference of consciousness
The fall retreat on the phowa is our final in a four-part series on Taming the ego; Journey to peace.  Phowa, according to Tibetan Bon Buddhism, is the most important practice we can do to prepare for death.
Phowa is a Tibetan word that means the ejection/transfer of  consciousness-mind from the pain body. The transference is from samsara to nirvana or from ordinary mind to enlightened mind.  It is the ejection from the ordinary body into the enlightened body, Kuntu Zangpo.
The Bon tradition teaches that the Phowa practice is the fastest path to enlightenment.  According to the Tibetan Yungdrung Bon tradition, all of us have the sacred body, energy and sacred mind required to be successful in this practice.
Phowa is spiritual preparation for the journey at the end of our lives. While Phowa practice will also help to make our daily lives better, it is the support at the end of our lives where Phowa will provide the most benefit. Dying will be an easier and more peaceful journey having done the traditional practices of Ngondro and Phowa practice.
Phowa utilizes breath, mantra, visualization, meditation and chakra energy to support our journey from suffering to great bliss.
Lama Geshe Yong Dong will guide the Phowa practice.
The Phowa retreat is open to the following practitioners:
Those who have completed the first three parts in our 4-part series, Taming the ego; journey to peace.
Those who have received Ngondro transmission.
Those who are long-time Bon practitioners.
The retreat will be held in person with a maximum of 15 participants. We will also present the retreat live on Zoom for those who would like to practice with us virtually. There will be question and answer sessions during the retreat so you can better connect to the teachings, GesheLa and your fellow Sangha members.
Daily Schedule of the Retreat:
Friday 7 pm – 9 pm
Saturday 9 – 11:30 am, 1 – 3 pm, 7 – 8:30 pm
Sunday 9:30 am – 12 pm
Pricing: 
Members: $120
Non-members: $150
*Please note: Part 1, 2 & 3 are prerequisites to Part 4. For those who were unable to attend the previous live events, you can download the recordings and materials for Part 1, Part 2, Part 3.
**This retreat will be available to book in 2022.