Spring Retreat: Tsa Lung Trul Khor, Ngondro (Preliminary), Part 1
April 21 @ 7:00 pm

-

April 23 @ 1:00 pm

PDT

$150.00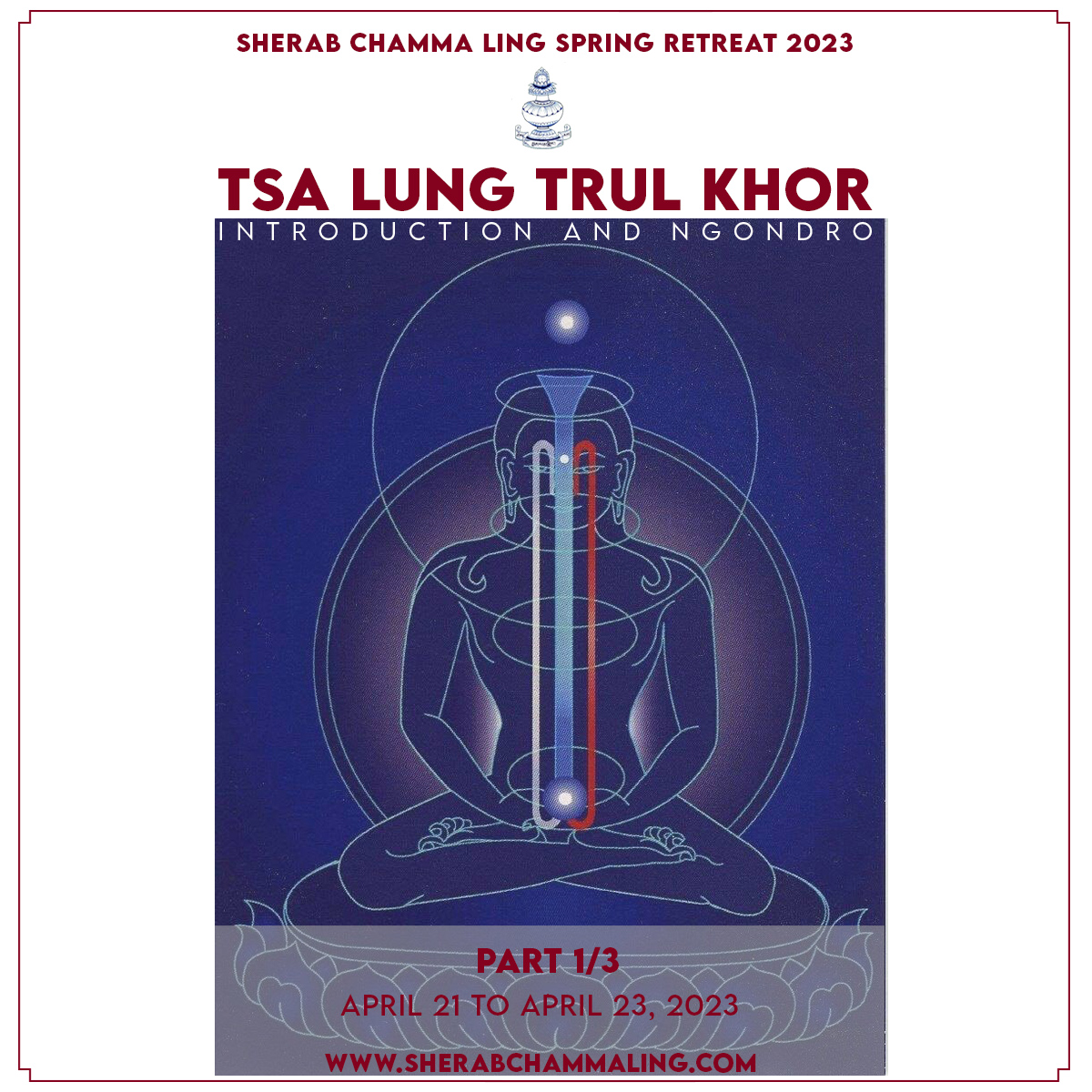 Tsa Lung Trul Khor – Introduction and Ngondro
All human beings on this earth have a desire to be healthy and happy. And to be healthy and
happy the body and mind need to be in alignment. In the Tibetan Zang Zung tradition it is believed that the Tsa Lung Trol Khor method is one of the most important practices for achieving a healthy body and peaceful mind. It is a special method for purification and liberation of the ordinary body and mind into the enlightened body and mind.
'Tsa' means channel, 'Lung' means vital energy, 'Trul' means impure and 'Khor' means turning or movement. Tsa Lung Trul Khor promotes the movement of vital energy within the body's channels and helps to liberate our consciousness. It is very important to learn and practice with pure intention under a qualified lineage master.
Sherab Chamma Ling is hosting a three-part series of retreats on the ancient Tibetan yoga practice of Tsa Lung, the magical movements that clear the chakras in the body for healing and rejuvenation.
The first of this series is this spring on April 21st — 23rd, 2023. At this retreat, we will learn how to create a sacred space for spiritual and healing practices. In the Tibetan traditions there are wonderful rituals we can easily do in our own homes to prepare our space as well as our bodies and minds, to gain the deepest benefits for ourselves and others.
Sherab Chamma Ling is hosting a 3-part series of retreats on the ancient Tibetan yoga practice of Tsa Lung, the magical movements that clear the chakras in the body for healing and rejuvenation.
The preliminary practices, or Ngondro, include some of the chants of the 3-fold Mother Tantra. These powerful mantras and rituals help us focus our energy and attention, and prepare our minds and bodies for the magical movements of Tsa Lung.
There are still a few spots left for the in-person venue in Merville, B.C., or you can join us on Zoom. Check out the retreat registration information on our website 
Three retreats in this series
The system of Tsa Lung Trul Khor has three main stages:
1. Ngondro Preliminary (April 2023)
2. Tsa Lung Meditation (Fall 2023)
3. Lujong basic body practice (Spring 2024)
This retreat, Ngondro Preliminary, is the first in a three-part series on Tsa Lung Trul Khor. The second part, Tsa Lung Meditation, will be presented at the fall retreat in 2023, and the third session, Lujong, Basic Body Practice, will he held in the spring of 2024.
The retreat will be held in-person, in an oceanfront yurt, just north of Courtenay in Merville, Vancouver Island. It will also be broadcast on Zoom for those who can't attend in person.
Schedule
Friday: 7 pm – 9 pm
Saturday:  9 am – 11:30 am;  1 pm – 4 pm
Sunday: 9:30 am – 12 noon
Price:  $120.00 for members; $150.00 for non-members
Venue: Maximum 25 persons onsite, and broadcast via Zoom online.
Saturday Lunch: you can bring your own lunch, or you can choose to get food at one of two local restaurants about 15 minutes away by car. Snacks, tea and coffee will be provided during the retreat.
Accommodation: if you are from out of the region and need a place to stay, we have limited billeting available. Please let us know if you would like this option. Billeting is done on a first come, first serve basis.
You can also camp at Kin BeachPark, Miracle Beach Park & Kitty Coleman Park, in addition to hotels and BnBs throughout the region.
Please join our sangha in this beautiful wilderness location this April.