༄་༎་ཤེས་རབ་བྱམས་མ་གླིང་ལ་ངེས་ཕེབས་ཡོད་པརཞུ་༎
Welcome to Sherab Chamma Ling
Sherab Chamma Ling is a centre located in Courtenay BC dedicated to teaching and practicing dharma and to preserving the Tibetan Bön religion and culture. While the centre is in the Yungdrung Bön tradition of Buddhism, all races, beliefs, teachers and practitioners are welcome. The centre is administered by a non-profit society.
We are blessed to have Geshe YongDong as the founder and our Spiritual Director.

Join Us via Live Video Teachings!
Subscribe to our Tuesday Night Live Video Teachings at $20/month and join us virtually in real time each week to learn and engage in an evening of meditation, chanting and lessons.
Our vision and mission:
To create & maintain a meditation retreat centre, Sherab Chamma Ling;
To Preserve Bön, the native religion of Tibet & its culture;
To Spread Bön teachings by cultivating practitioners & scholars in the west;
To Support & sustain a Spiritual Director & visiting teachers. The centre and society are dedicated to raising and/or securing funds to purchase land and buildings to create a Tibetan Yungdrung Bön international teaching and retreat centre.
His Holiness the 34th Menri Trizin, Lungtok Dawa Dargyal Rinpoche To Teach at Sherab Chamma Ling - July 19 - 21, 2019
REGISTRATION IS OPEN!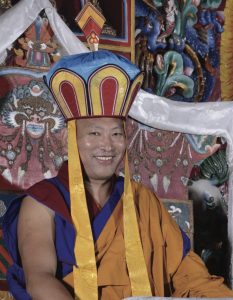 Join Lama Geshe YongDong and Sherab Chamma Ling sangha in beautiful Comox Valley, British Columbia, Canada as we welcome His Holiness the 34th Menri Trizin, spiritual leader of the Bön tradition and Abbot of Menri Monastery in Dolanji, India.
In February 2018, Bönpos worldwide joined in celebrating the selection of the 34th Menri Trizin at Menri Monastery, following the death of the 33rd Menri Trizin, Lungtok Tenpai Nyima Rinpoche the previous September.
On September 6, 2018 a formal grand enthronement ceremony for His Holiness, the 34th Menri Trizin, Lungtok Dawa Dargyal Rinpoche,  took place at Menri.
We are grateful to Ligmincha International to organize this three-month tour for His Holiness and his attendant monks, and very pleased that His Holiness has included Sherab Chamma Ling, the only Bön Centre in Canada, as part of their 2019 European, UK  and North American tour.
Sherab Chamma Ling will be hosting activities and events related to this visit as well as being directly responsible for all travel-related expenses.  Join us for a once in a lifetime opportunity to support this amazing journey together and to receive profound teachings taught by His Holiness 34th Menri Trizin on the beautiful Comox Valley, Vancouver Island, British Columbia, Canada!
On his tour and visit, His Holiness and his attendants,  will join Lama Geshe YongDong at Sherab Chamma Ling in Courtenay  for a weekend retreat July 19 - 21 to teach on these two topics:
The Six Lamps of Dzogchen and Sherab Chamma: The Wisdom Loving Empowerment
Registration will be limited so we suggest you register early to avoid disappointment!
Fee for the weekend July 19-21, 2019:  185.00 CDN. per person.  This includes the welcoming ceremony  on Friday, all weekend teachings, tea and snacks throughout the weekend and an evening of entertainment Saturday.  Stay tuned to the website for more updates as planning continues.