B.C. Society # S-49873 01 November 2005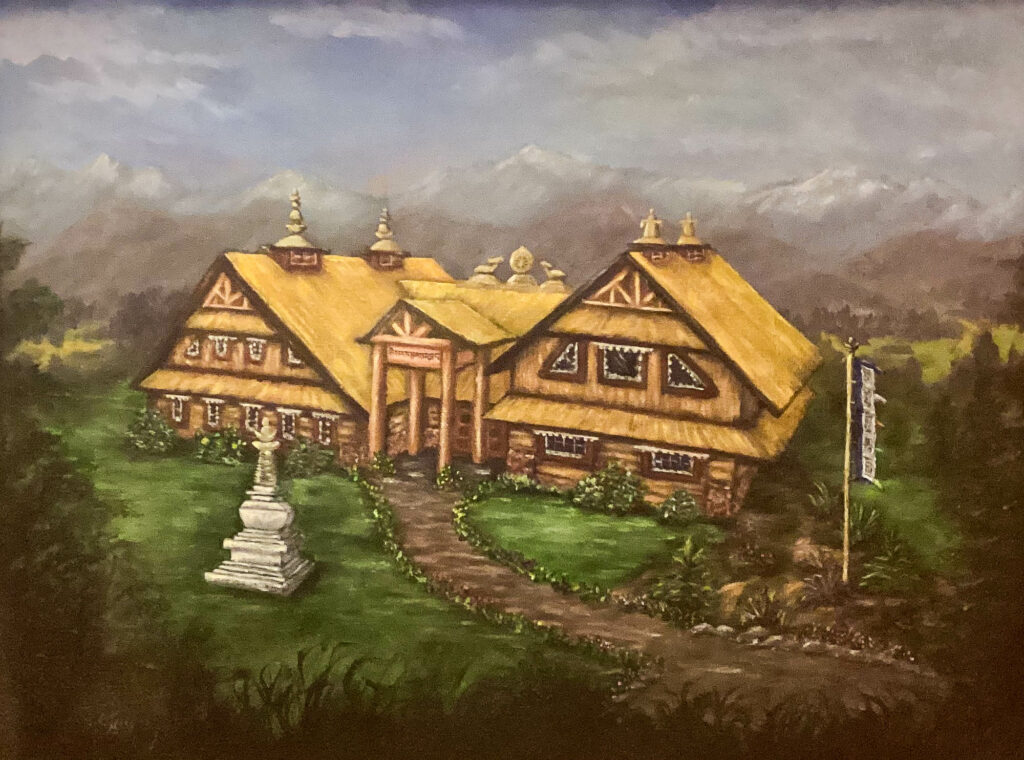 Our Mission
Create & maintain a meditation retreat centre, Sherab Chamma Ling
Preserve Bön, the native religion of Tibet & its culture
Spread Bön teachings by cultivating practitioners & scholars in the west
Support & sustain a Spiritual Director & visiting teachers
Our Vision
To purchase land and/or buildings to create a Tibetan Yungdrung Bön international teaching & retreat centre known as: Sherab Chamma Ling, Tibetan Bön Buddhist Centre
Our Commitment
To raise funds whether by way of fund-raising activities, receipt of gifts, donations, legacies & grants or otherwise to hold, invest, & use them for the promotion of the objects of the Society
To acquire lands & buildings by purchase or otherwise, for the purpose of establishing a worship centre, teaching & meeting place, & retreat centre
In November 2005, two years after Lama Geshe YongDong created Sherab Chamma Ling, the Tibetan Bön Buddhist Society was formed. Under the direction of Geshe YongDong, the Society is administered to by an elected executive, now consisting of: President: Larry Moss, Vice President: Gordon Ross, Treasurer: Colleen Embree-Jay, Secretary: Norma Chambers, Member at Large: Natasha Robson & Member at Large: Esther Hutton. Executive terms are for a two year period. Business meetings are held in May, September and January with the Annual General Meeting (AGM) held annually in February or March. Members are encouraged to attend or communicate via email with their questions, concerns and comments, and make their voice heard in the operations of our Centre.
The Centre has been operating since 2003 in rented facilities in the Comox Valley. We've had so many amazing volunteers who have helped out along the way. We are so grateful for all these dedicated volunteers who have helped in the past and continue to help out today. We could not do this without you. Blessings to you all. Thank you!
Sadly, our physical location on England St. in Courtenay was closed in November 2020 due to Covid-19 complications. Until further notice, we are now strictly online until we find a new home for our Society. You can join us online every Tuesday evening, 7-9 pm (Vancouver, BC time) via Zoom. We have a diverse Sangha that joins us from all around the world. You can find out how to join us online, here.
In addition to having taught at our Centre and online, GesheLa regularly travels to teach in other areas on Vancouver Island, and in Alberta, California, Texas and in the Ligmincha centre in Virginia U.S. Geshe YongDong continues regular teachings in Costa Rica, Colombia, and the Asian countries of Vietnam, Cambodia and Lao PDR. Our online 'Zoom' teachings allow our Lama to continue his teachings to us via the Zoom App. Check it out!
The Centre and Society are dedicated to raising and/or securing funds to purchase land and buildings to create a Tibetan Yungdrung Bön International Teaching and Retreat Centre on beautiful Vancouver Island. Funds are being actively pursued by way of fund-raising activities, receipt of gifts, donations of any amount, legacies and grants.
If you would like to help in creating an International Teaching and Retreat Centre on Vancouver Island, B.C. Canada, please consider making a contribution. We are a registered non-profit, tax-exempt charity.