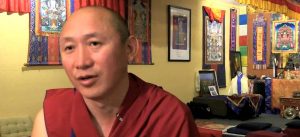 About Our Tuesday Night Live Video Teachings
Are you interested in learning more about Buddhism but can't travel to Sherab Chamma Ling? We can help you access our teachings by live video so you don't have to miss out on the insights, prayers, meditation and chants from resident Lama Geshe YongDong!
We provide access to GesheLa's teachings through live video technology, called Zoom. When you purchase a Zoom membership for $20/month you'll gain access to our Tuesday Night Drop-In Sessions in real time from the comfort of home, through video software that is easy to download and install. Cancel at any time via the account that will automatically be created for you upon purchase.
Engage in our Tuesday evening sessions with participants at the Courtenay Centre and other Zoom participants from around the world, 7 pm – 9 pm (doors open at 6:30 pm). You'll even have the opportunity to interact by leaving comments and messages from your computer during Question & Answer sessions.
How it Works
Once you purchase the Tuesday Night Live Video Teachings via the subscription link at the bottom of this page you will:
Automatically receive two confirmation emails from us. One of them will be titled Thank You For Your Payment and this will have a link to access your Zoom installation details.
That link will take you to a page of information on how to easily download the Zoom app and use a special code (provided on that page) to join our Tuesday Night Teachings via the live video feed.
Try Zoom For Free
If you would like to install the Zoom app before becoming a subscriber, you can follow this link to install the Free App Download (click on the first link on the page, "Zoom Client for Meetings"). With this free account for zoom installed on your device, you can host your own video meetings with one other person that has the App installed.  This is a great way to get comfortable with using this very intuitive and versatile program.
Purchase Your Tuesday Night Drop-In Session Zoom Membership Now
The Society welcomes all those interested in Buddhism or the objectives of the Society, to purchase our Tuesday Night Drop-In Session Zoom Membership. Membership will not be restricted based upon race, national origin, gender, sexual orientation, age, religion or handicap. The Society is grateful for your ongoing commitment to the keep our Centre going. Questions? Contact us.
$20.00 / monthSign Up Now
Have you already signed up? If so, use this link to log in to the website and see the Zoom instructions page.