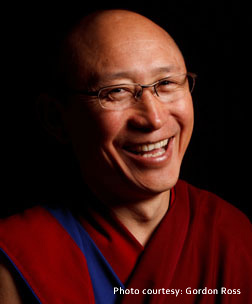 ---
Geshe YongDong is the author of several books written in the Tibetan language:
BOOKS
Introduction to Bardo Meditation
Knowledge of the Land of the Snow
The Life of the Son of the Snow
Collection of Philosophy and Conduct of the Middle Path
The Ancient History of Tibet
POETRY
The Wild Yak of the Snow Mountain
Amala, the Treasure of My Heart
THESIS
The Principle of the Five Elements
ENGLISH LANGUAGE:
Calm Breath, Calm Mind (2017)
---
Geshe YongDong has a dream and an objective to build a Tibetan Bon retreat centre on Vancouver Island, Canada. His plan is to invite monks from Tibet and India to teach classes and share their culture with western students. He also has a larger dream and commitment to introduce, teach and establish Yungdrung Bön Buddhism throughout Canada and the world.
More information on Geshe YongDong and the Canadian Yungdrung Bon centre can be found at: www.sherabchammaling.com.
Mailing address: #7 – 3020 Cliffe Avenue Courtenay B.C. Canada V9N 2L7
Geshe YongDong was born in the village of Ngawa, Amdo, Tibet in 1969. He made his initial decision to become a monk at seven years old when he witnessed several young monks chanting after his mother's death. His family didn't feel he was ready just yet and, due to the severe conditions in Tibet in 1979, he eventually went with his uncle to live and work as a nomad for over three years, herding sheep and yak in the Himalayas.
In 1982 at the age of thirteen, he was finally given permission by his family to become a monk. He entered Nangzhig Bönpo Monastery in Amdo, Tibet and took his vows under his root master, Jawob Tenzin Wangyal Rinpoche. He studied the Bon teachings from different masters at the monastery, as well as the teachings from different Buddhist traditions.
In 1992, after eleven and a half years of study, he was youngest monk in history to be awarded the Geshe degree at Nangzhig Bon Monastery. Following his graduation in the spring of 1992 Geshe YongDong, along with ten other Tibetans, escaped from Tibet into Kathmandu, Nepal. With the help of a Nepalese guide, they walked for ten days through the Himalayan Mountains. After travelled to Dharamsala, in northern India and met with H.H. the 14th Dalai Lama and received many teachings and blessings.
He went to Menri Monastery in northern India to further his studies and practice under His Holiness the Menri Trizin 33rd and the great master, Pönlop Trinlyi Nyima Rinpoche. At Sera Monastery University studied middle path philosophy Madhyamika, under the instruction and guidance of Master Geshe Thupten Rinchen for three years.
In the fall of 1999, Geshe YongDong moved to British Columbia., Canada. He focussed on learning English and getting to know western culture. He soon began teaching Buddhist philosophy in English, to small groups of students. He also developed a heart connection with the First Nations People of Canada and has attended several of the larger International First Nations Gatherings. He met with several of the Chiefs and Elders to discuss the many similarities and genocide that both of their cultures are facing. He was officially adopted into the Cree Nation in 2001 and given the name of Kah pae, pae, Tah Koosit, which means 'The Coming Sound of Thunder Bird.'
He eventually settled in the Comox Valley on Vancouver Island, where he founded Sherab Chamma Ling, the first Tibetan Bon Buddhist Centre in Canada. He is the Resident Spiritual Director and continues to teach regularly at his centre today. He has also founded two international Bon Buddhist centres located in Costa Rica and Columbia and has been involved in several organizations over the years. These include the International Non-sectarian Buddhist Society and Western Tibetan Bon Lamas Groups. Since 1999, Geshe YongDong has taught all over the world including countries North America, South America, Europe and Asia.
During his leisure time Geshe La loves to golf, hike and be active enjoying the beautiful nature Vancouver Island offers.